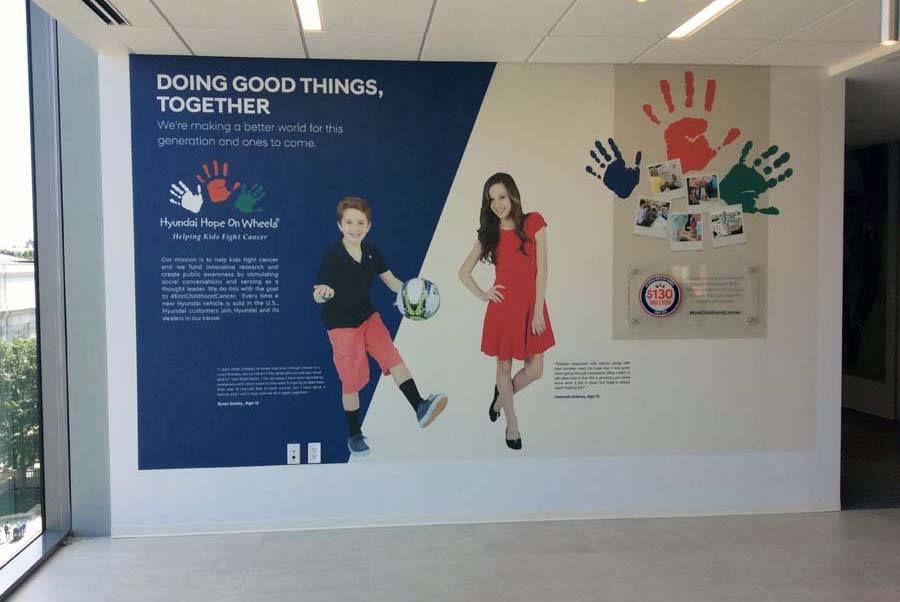 The Benefits of Custom Wall Wraps For Your Business
When looking for ways to expand your marketing efforts, dont overlook the many benefits of a wall wrap for your business.
A custom wall wrap is so much more than just a pretty design. The right environmental graphics can transform a bare and plain-looking office into a thoughtfully-designed space that inspires your employees and engages with your customers in a way no other marketing materials can.
Discover the benefits of custom wall wraps, and check out our list of our personal favorite displays for inspiration on how you can use a wall wrap in your own office.
What is a Wall Wrap?
Wall wraps are large decals made of thin vinyl that are applied directly to a wall or other flat surface. By covering the entire wall in a graphic, design, image, or logo of your choosing, the space can take on a new appearance with minimal effort and maximum impact. Wall wraps replace the need for paint, signs, frames, banners, and so on.
The Benefits of Wall Wraps for Your Customers Employees
Fosters an Emotional Connection
An innovative design displayed in your building is easily seen by all passersby, including customers and employees. But why is this important? Custom wall wraps are a creative and eye-catching technique used for connecting with people in multiple ways. In the world of business, an emotional connection to your products, services, or brand is what encourages customers to keep coming back, and what leaves your employees feeling more engaged with your company.
You may already have photos of team events or framed certificates commemorating past projects displayed throughout your building. However, unlike a small plaque or a framed piece of paper, a wall wrap does a better job of stopping people in their tracks and prompting them to actually take in whats being displayed. Think of a wall graphic as a beautiful piece of art that can engage, inspire, or inform anyone who sees it.
Drives Brand Awareness
Your brands logo or mission statement can be beautifully displayed on more than just a banner or within a frame it can also be designed as a wall wrap that expands from floor to ceiling. As you will see in the examples of wall graphics below, this gives potential customers the impression that your business is creative, innovative, and looks to inspire all positive traits to have.
Use a wall wrap to show off your company and what makes you so special. Imagine this as your chance to let your voice shine and truly show who you are as a business and why you are good at what you do.
Easy Installation and Follow-Up Maintenance
Utilizing various printing and graphic design techniques, we can print graphics, murals, and full wallscapes to cover as many walls within your space as you would like. Before submitting your design to us, we perform an initial site visit to determine what would look best in your office space.
Our team handles the entire process from start to finish to ensure high-quality printing, site visits for graphic and sizing recommendations, and seamless delivery and installation.
Best of all, maintaining your wall graphics is extremely simple as theres virtually no maintenance required. Therefore, you will enjoy your wall wraps for years to come!
Examples of Past Work
Below is just a handful of the many wall wraps we have created and installed over the years.
1. Charlotte Douglas International Airport, Charlotte, North Carolina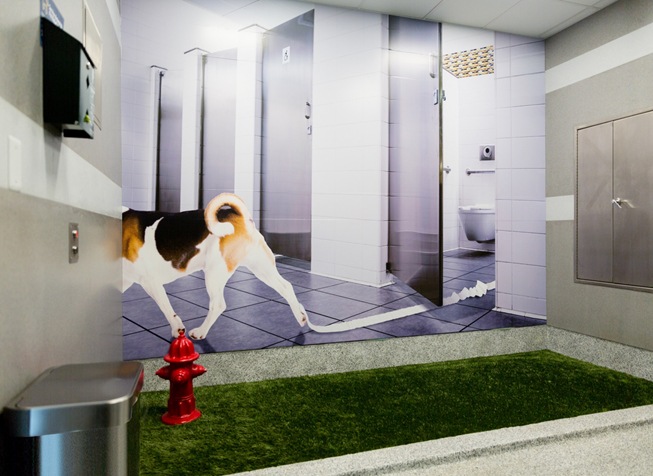 Located in each terminal of the Charlotte International Airport are designated potty stations for pets that are traveling with their owners. These wall wraps feature a playful dog in a restroom as a fun way of showing what the station is meant for. Each wrap consists of a custom vinyl wall graphic that is easy to clean a must-have for this particular space.
2. Trane Technologies, Davidson, NC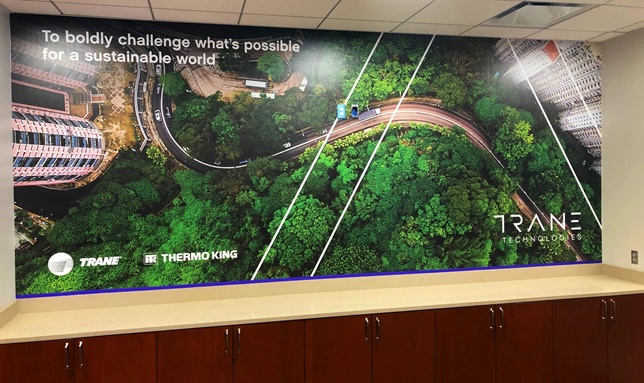 You could say that the vision behind this wall graphic was to take the viewer on a ride. Trane Technologies is a company with a focus on sustainability and sharing their innovative methods with the world. By showing how nature can responsibly intermingle with urban development, this wall wraps demonstrates how to enjoy the best of both worlds.
3. British International School of Charlotte, North Carolina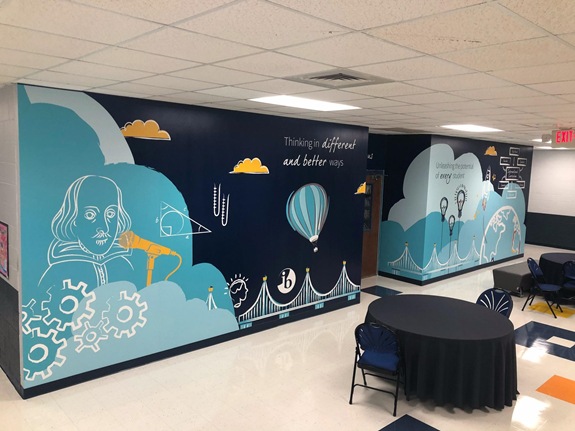 As a private day school, BISC is known as one of the areas top educational institutions. Their passionate staff delivers an exceptional educational experience that they wanted to showcase throughout their building. The wall wrap demonstrates the depth of the education parents can expect their child to receive here, while also engaging with the children through curious images and fun colors.
4. York County Sheriffs Office, Fort Mill, South Carolina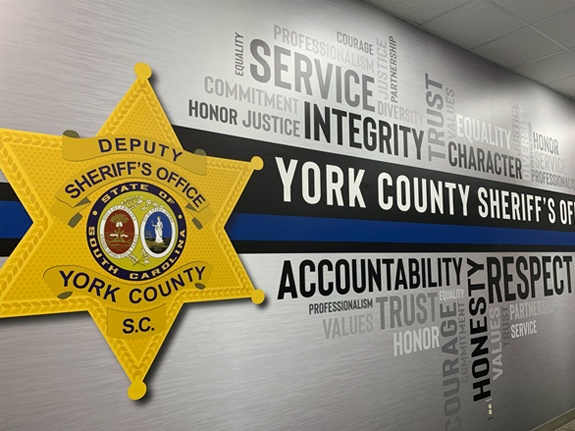 The York County Sheriffs office proudly displays its values on their walls as a daily reminder to its officers and employees. Instead of compiling each of these values in a list format, its displayed in an engaging way that is interesting to read and much more memorable.
5. CGAP World Bank, Washington, DC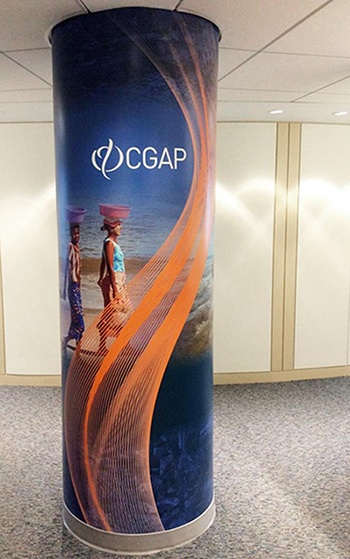 Wall wraps arent just for walls! Wall graphics are very versatile and can be displayed on many types of surfaces, including columns. Creatively installing wall wraps is a simple way to get your message out there to any visitors who walk through your building. Overall, the more your brand is seen, the more trustworthy you come across.
See our complete photo gallery of wall wraps and graphics for more ideas on how we can help you transform your office space.
Ideas for Engaging Wall Wraps
Although we did not create the wall wraps featured below, we admire the design and encourage you to use these examples for ideas when creating your wall graphics.
1. Skype Headquarters, Palo Alto, California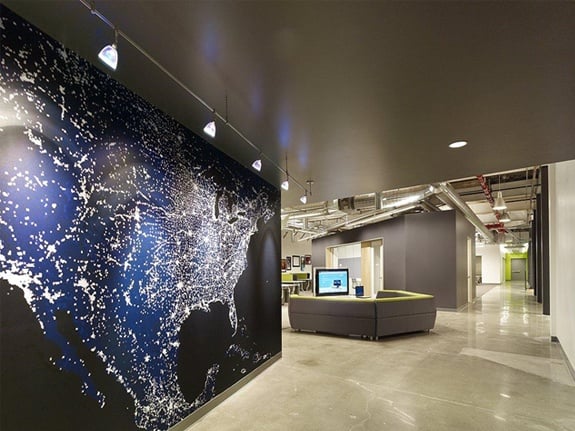 A satellite image of North America at night showcases where Skype users are located across the globe. Not only is this wall wrap a beautiful way to bring artwork into the otherwise bland commercial space, but it also serves as a reminder of the worldwide connections Skype has created as a brand.
2. Adobe Campus, Lehi, Utah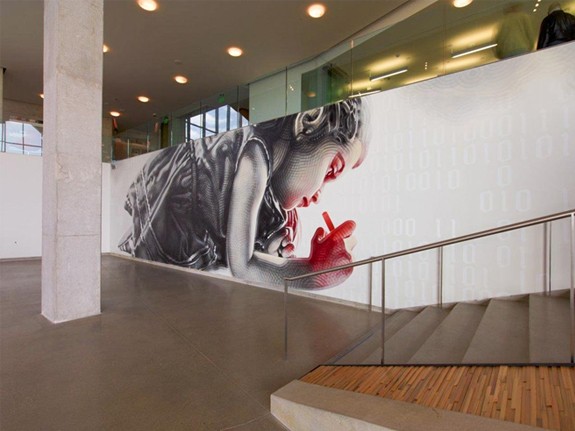 Adobes wall graphic at their Utah campus shows a young child lost in one of her creations. The image features powerful symbolism behind Adobes suite of products, and what can be accomplished when Adobe users tap into their creativity. In all, its an excellent way to display the companys values in one wonderful design.
3. LinkedIn Headquarters, Sunnyvale, California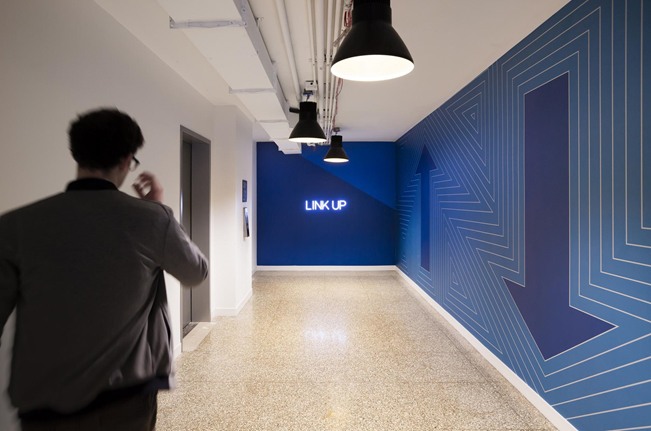 LinkedIn is a social platform solely focused on making connections with others. Above is an example of how a wall wrap can make an uninteresting space such as a hallway a bit more exciting.
While the Link Up neon sign at the end of the hallway adds a bit of fun interest, the wall wrap directly across the elevators adds further impact. Without the arrow design, the neon sign would feel incomplete and somewhat random here.
4. Gary Lee Partners, Chicago, Illinois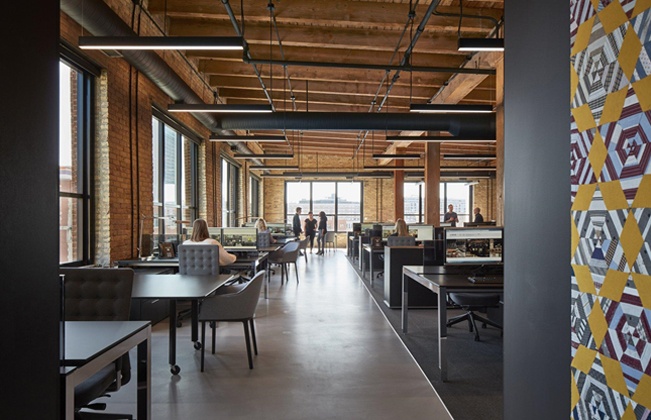 No interior design firm is complete without a beautiful office of its own. In terms of design, this company focused on keeping it simple, with all black and grey furniture. On the wall to the right you can see they added a graphic wrap featuring a modern pattern as an accent wall to incorporate a wider color palette.
5. Nike Offices, London, UK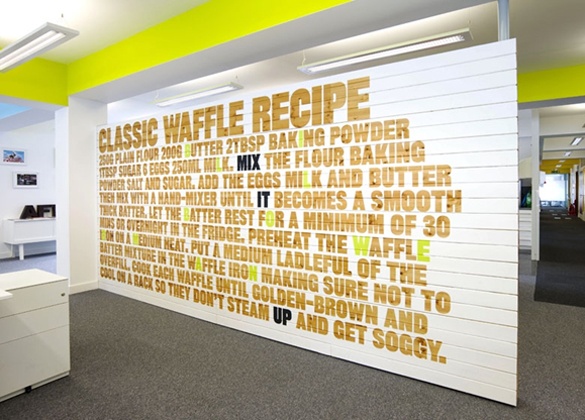 Nikes London office has a graphic wall in the employee kitchen that highlights a simple waffle recipe. Not only is this a creative use of space, its also practical and helpful for employees. If you look closely, you will notice the neon green letters and black words mixed within the orange text that share subtle messages!
Wall Wraps at Heritage Printing, Signs Displays
While we are experts in wall wraps, you are the experts of your business. Our goal is to work with you collaboratively when designing, printing, or installing any of our products.
From the very beginning of the process, we will coordinate a site visit to show you the best options when it comes to turning your vision into reality. As we get to know you and your plans for the space, we can make suggestions to guarantee you love the end product.
Back at Heritage Printing, Signs Displays, our team will work diligently to turn your creation into a custom wall wrap perfectly suited to the space were working with. From delivery to installation, you will have one individual from our team working closely with you throughout the process. This ensures there are no miscommunications and you can feel confident in the product that is being delivered.
When it comes to maintenance, our team will explain what is needed for your custom wall piece. Generally speaking, there is not much maintenance involved, as our wall graphics are made from high-quality vinyl that can withstand any lighting, traffic, and the like.
Turn Your Unique Vision into a Custom Reality
Does it feel like your office space is missing something? Does it feel uninspiring and uninviting? Wall Wraps may be the missing piece you never knew you needed. Simply let us know what you have in mind and we can start the creative process together.
If you like our work and have questions about how we bring our customers vision to life, please reach out to us via the button below. We cant wait to discuss your ideas with you.
#WallWraps, #EnvironmentalGraphics, #WallGraphics, #HeritagePrintingSignsDisplays